AZGFD: Monsoon Moisture Brings Increased Exposure To Insect-Borne Diseases
Weather forecasts show that a resurgence of Arizona's monsoon is on the horizon and while badly needed moisture may be on the increase, so will the possibility of insect-borne diseases that can impact people, pets and wildlife.
Earlier this month a dead prairie dog tested positive for plague in Coconino County and Maricopa County Vector Control officials detected West Nile and St. Louis encephalitis viruses in mosquito pools. Another disease not uncommon during summer months is tularemia, a infection that can be transmitted to humans.
Impact Wildlife
"These diseases can have a devastating impact on Arizona's wildlife, causing die-offs in rabbits, rodents, squirrels and prairie dogs," said Anne Justice-Allen, Arizona Game and Fish Department wildlife veterinarian.
"People should also be mindful that infected fleas and mosquitoes can also be a risk to domesticated pets.
When you're outside — and especially early in the morning and evening — take protective measures such as wearing long pants, long sleeves and apply mosquito repellent."
Report Incidents
AZGFD advises the public to avoid any potentially deceased animals they come across and to report any incidents where there are more than one animal of the same species found dead within the same general vicinity. Such incidents can be reported to the nearest AZGFD regional office or by calling the department radio room at (623) 236-7201.
Fleas Carry Plague
Plague is carried by infected fleas, which spread the disease through host animals. While prairie dogs are host to fleas, the fleas can survive in the burrow after their host dies and attach themselves to the next host that comes along, which may or may not be another prairie dog.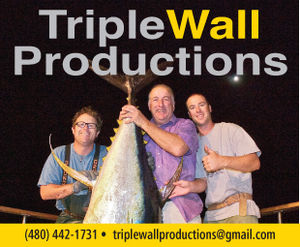 Badgers, coyotes and foxes are also host to fleas and may contribute to the spread of an outbreak because they travel further distances.
Those in areas where plague and/or rodents are known to be present are urged to take the following precautions to reduce their risk of exposure:
• Do not handle sick or dead animals.
• Prevent pets from roaming loose. Pets can pick up the infected fleas. De-flea pets routinely. Contact your veterinarian for specific recommendations.
• Avoid rodent burrows and fleas.
• Use insect repellents when visiting or working in areas where plague might be active or rodents might be present (campers, hikers, woodcutters and hunters).
• Wear rubber gloves and other protection when cleaning and skinning wild animals.
• Do not camp next to rodent burrows and avoid sleeping directly on the ground.
• In case of illness see your physician immediately as treatment with antibiotics is very effective.
More information is available at https://www.cdc.gov/plague/.