AZGFD Gets Help in Fight Against Invasive Mussels
PHOENIX -- The U.S. Bureau of Reclamation has allocated more than $4 million to support existing work by western states and tribes to combat the spread of invasive quagga and zebra mussels.
Arizona has several quagga mussel-infested waterbodies and will benefit from the increased funding.
The allocation is part of an initiative by Department of Interior Secretary Zinke called, "Safeguarding the West: Actions to Strengthen Federal, State, and Tribal Coordination to Address Invasive Mussels."
Arizona was among the first western states to have an introduction of the invasive mussels following their 2007
discovery in Lake Mead.
"This money will be a tremendous help to our program," said Erin Raney, AZGFD Aquatic Invasive Species Coordinator. "Containing the spread of invasive mussels is costly, but worthwhile in the long run. We just haven't had the resources to properly address the issue in Arizona before now."
Quagga and zebra mussels can cause extensive damage to ecosystems and fisheries, contribute to poor water quality and algae blooms and cost millions of dollars to taxpayers in managing clogged water and power infrastructure when the mussels attach inside of raw water pipes. Many waters in Arizona and a majority of western states still do not have established populations of invasive mussels.
"We want to keep it that way," Raney said. "These are our last uninfested watersheds in the United States. Impacts to the ecology and economy of the entire region will be huge if these mussels are spread to uninfested waters. We want to be good neighbors and do our part to protect these remaining watersheds, while protecting our boating and recreation opportunities."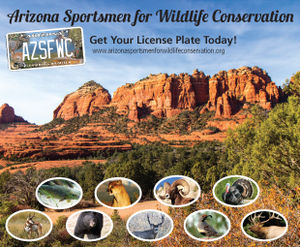 Money allocated to Arizona will be used to support existing and future efforts to increase watercraft inspections and decontamination locations throughout the state and to bolster enforcement efforts. Watercraft inspections and decontaminations reduce the risk of spreading quagga mussels and other aquatic invasive species (AIS). Having a seal and receipt documenting a certified inspection can help decrease wait times at inspection locations, and reduce the risk of costly citations or impoundment of watercraft for transporting AIS.
"We are already working with local, state, interstate and federal partners, as well as private industry to build our program and provide more inspection and decontamination opportunities for boaters," Raney said. "We hope that by expanding services, we will get better compliance. It's a big job, but with everybody pitching in, we can stop their spread."