Lake Pleasant Boating and Watersports
Come To The Fun Side; Come To The Fun Slide H2 Whoa! the world's tallest floating waterslide has opened at Lake Pleasant. At a height of 34 feet "H2 Whoa!" and recently recorded by The Guinness Book...
Website
ICAST Invites Anglers
New industry award lets fishing fans weigh-in on the best of the new products. Alexandria, VA – August 8, 2022 – With the advent of social media, anglers around the globe now know about the...
Website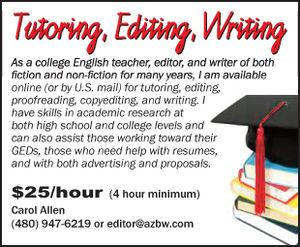 Glidecoat Restores and Protects RV Front Caps
No matter if traveling an interstate or a lonely backroad, the front of an RV takes a lot of abuse. Windblown dirt, bugs, road tar and other debris all combine with continual UV ray exposure to... Full story
Kartchner Caverns State Park
The new system will support millions of park visitors with updated features to easily manage campground, cabin, tour and event reservations. Arizona State Parks and Trails had updated its reservation... Full story
AZGFD Hunting Calendar August 2022
August 2022 Arizona Hunting Calendar Compiled By Margie Anderson Make sure you don't miss an opportunity to hunt! Keep an eye on the Arizona Game and Fish website at azgfd.gov so you know when the... Full story
2 COMMENTS
Is Virus The Least Of Our Worries?